Since his 16 years old, Jacopo Baboni Schilingi has been identified as a talented and gifted artist. Here is a selection of newspaper articles [such as Le Monde, The New York Times, Il corriere della Sera, El Norte, etc.] and magazine portraits [such as Diapason, Amadeus, Il Fotografo, ELLE, VOGUE etc.] dedicated to Jacopo's career. In he sub-menu Documents, you can find all papres on Jacopo's mysuc, year by year.
---
CHANEL - 2020 - Japan
Mamade Figaro Japan, Vogue, Elle Japan, Aera, Casa BRUTUS, Premium, Openers; The fashio Post, Nikkei LUXE, etc.
---
Res Musica - 2020 France
Composer, performer, teacher and theorist, Jacopo Baboni Schilingi leads an international career, invited in Europe as much as in Asia, in concert halls to play his music, but also in galleries to present his work as a photographer. [Interview by Michèle Tosi]
---
Il Fotografo - 2019 - Italy
The exhibition is like a "photographer's concert", where writing and music are on the same level. Jacopo Baboni Schilingi is a highly renowned Italian classical musician, who has been living in Paris for years. He combines classical music, electronic music, calligraphy, body art and photography. His concerts and photo exhibitions are shown worldwide, on the invitations of great institutions and patrons. His project "Identigraphie" [physical act of writing the music score, calligraphy, on human bodies] gives a sort of nobility to musical writing through photography. [Interview by Leonello Bertolucci]


---
Amadeus - 2019 - Italy
During these last years Bodyscore has continued and expanded. In these pages the new male shots of Baboni Schilingi. After the inauguration of the Paris Fotofever Festival last November with an exhibition and a live performance at the Carrousel du Louvre, from 14 January to 14 February 2020 in Tokyo, the Chanel Nexus Hal hosts the Bodyscore - The Soul Signature monographic exhibition, which it also provides for the projection of the facade of the Chanel Tower. Patron of the composer, the French fashion company commissioned the creation of a string quartet entitled "N.5".

---
Musica presente - Tendenze e compositori di oggi - by Renzo Cresti, Libreria Musicale Italiana, 2019 - Italy
Jacop Baboni Schilingi writes his music with blod.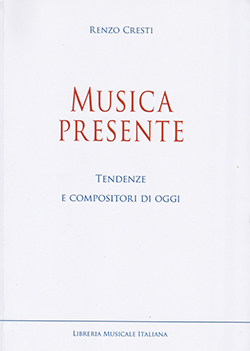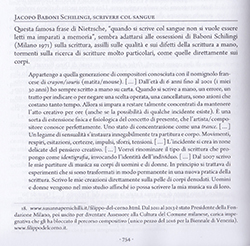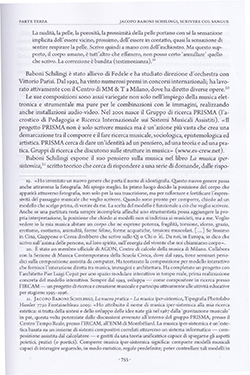 ---
Le Monde - 2018 - France
At Grand Palais a musical immersion based on breath
The "Artists & Robots" exhibition shows a work by Jacopo Baboni Schilingi… The electronic sounds fill the space where people take the time of listening to the music. This music is powerful and refreshing within the images generated by the computer, come from the same source: the breathing by composer Jacopo Baboni Schilingi. This composition is the mirror of the living state of the composer. [Pierre Gervasoni]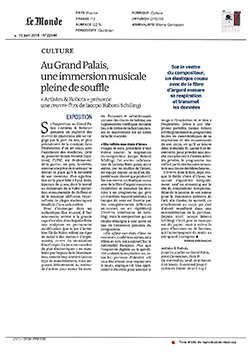 ---
Amadeus - 2018 - Italy
Jacopo Baboni Schilingi: unerasable ! He writes his music on bare skin but hates the exchanges of Italy's cultural system. He is currently composing his fifth quatuor n°5 for Chanel, but he has studied with Fedele and Berio. This and much more, the Grand Palais in Paris will host his creation. [Interview by Gianluigi Mattietti]
---
L'Est républicain - 2017 - France
Playing like a conductor in the « cour » of P lais. Thanks to whom ? Jacopo Baboni Schilingi, over 40 years old from Milan, with an impressive CV, very well known in Montbéliard, where he teaches composition. He is an inventor of new ways of conceiving music, Baboni Schilingi who created the Ensemble de Musique Interactive. [Joël Mamet]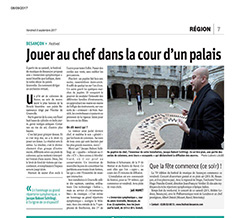 ---
Il corriere della sera - 2016 - Italy
Jacopo Baboni Schilingi, a composer born in Milan who lives in Paris, created an original interactive music for Onde Pixel, by Miguel Chevalier, at the Unicredit Pavillon. [R. Scorranese]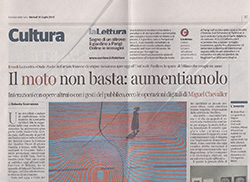 ---
Amadeus - 2015 - Italy
Body Scores is a new project conceived by the composer Jacopo Baboni Schilingi. This project is shown in France, China, Japan and during this month, in the USA. Body Scores is also a photographic book, punished by INNO-Design, in France.
---
Amadeus - 2010 - Italy
UNDER 40: Jacopo Baboni Schilingi, a passionate ingegnus
Artist, researcher, music worker, the Italian composer has formalized the « Hyper systemic music » and he lives in Paris since many years ago.
He can talk about "doxological regimen » and about his memories with Luciano Berio. He lives in Paris with his children Clément and Arthur, but he works all around the world. He teaches in several institutions, and he worked for years at Centro Tempo Reale and Ircam. He is a passionate mind who formalized a new aesthetics, shared by many members of PRISMA, hub of composers coming from all around the world. [Marilena Laterza]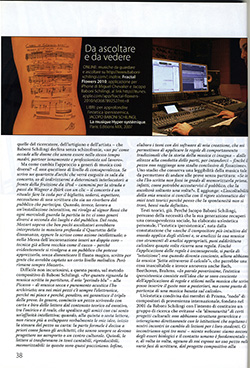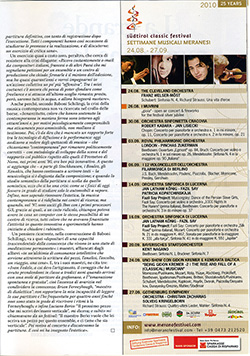 ---
Il giornale della musica - 2007 - Italy
Contemporary music becomes hyper-system
The composer Jacopo Baboni Schilingi and his projects in Paris
Some time has passed since a composer tried to develop an aesthetic of music that - although starting from his position - could be a key to understanding and thinking the entire contemporary horizon.
That a systematic aesthetic elaboration has not suited the western composer, since Boulez's time, is perhaps inscribed in the definitive explosion of languages and styles of the last decades.
To this pulverized image,
the young Italian Jacopo Baboni Schilingi tries to give new perspective with a new aesthetic theory: hyper-systemic music. [Alessandro Mastropietro]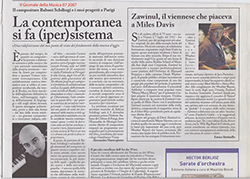 ---
Le monde - 2006 - France
When eletronic is living
The world premiere Spatio intertmisso (temporis), by Jacopo Baboni Schilingi, is like a spectacular crescendo where the electronics, like a whale song, surrounds the explosive monologue of the oboist. The two composers scheduled after the intermission are Jodlowski and Baboni Schilingi, both born in the '70, and representing a generation grown at the time of live electronics. [Pierre Gervasoni]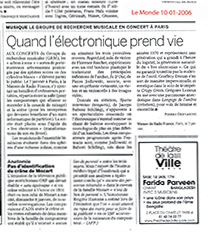 ---
Le monde - 2005 - France
In Italy it is like a desert, since when the Vatican Council 1965 destroyed the « bridge » between contemporary music and sacred liturgy. The Contemporary music Laboratory at the service of the Liturgy tries to rebuild something in this desert with some string artistic proposal. It is the case with the Electronic Mass with the participation of the young composer Jacopo Baboni Schilingi who studied at Ircam. [P. Gi]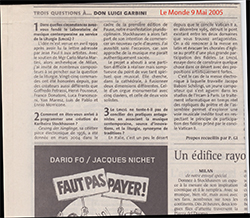 ---
Muska - 2004 - Slovenia
About morphology and music as a judgement. Jacopo Baboni Schilingi is a talented researcher, who lives between Paris and Florence, where he works at two musical institutes: IRCAM and Tempo Reale. He teaches composition at the CRD of Montbéliard, among other things, and he is one of the highest regarded musical theoreticians in Central Europe, in the field of music morphology. [Marina Zlender]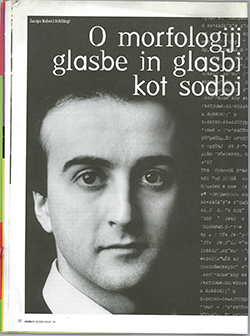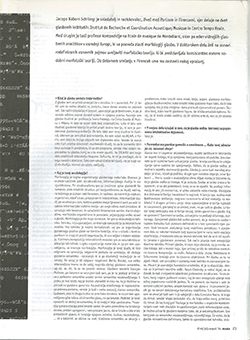 ---
El Norte - 2002 - Mexico
Monterrey with visual arts… the combination of many dimensions of the listening experience offers an hybrid music, generated by an algorithm, to offer another urban vision… Through interactivity, the audience can access the acoustic interpretation of Monterrey, re-composed by Jacopo Baboni Schilingi.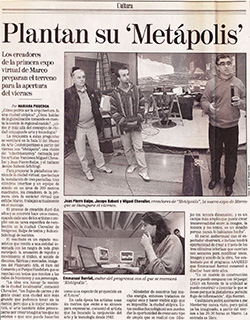 ---
The New York Times - 2001- USA
If the school were to try this, Mr. Baboni Schilingi might be a man to invite. His composition, « The Color of Blue », was a beautiful short piece for string quartet, evidently the work of a composer close to the Paris spectral school, but distinctively elegant and fascinating in its untangling and retanglings of webs of sound. It had obviously appealed to the imaginations of its players. [Paul Griffiths]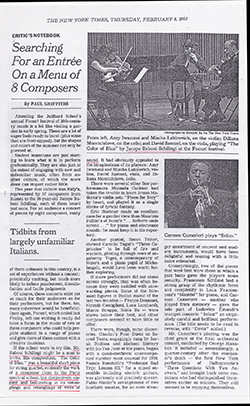 ---
Est républicain - 2000 - France
A concert for the opening
With an expetionla connect at ATRIA, starts the Festival Interference. It is the world premiere by Jacopo Baboni Schilingi composer and renown teacher of composition at the Conservatory of Music in Montbéliard. He created Syntax Error, a new composition unifying instruments, electronics voice and computers. Syntax Error is the fruit of a strong collaboration between the singer Nicholas Isherwood and Jacopo Baboni Schilingi, who will soon create another new composition in Florence.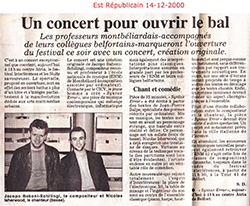 ---
Saarbrücker Zeitung - 2000 - Germany
With an excellent gestion of the form, Il Colore del Rosso, a composition with Jacopo Baboni Schilingi, flatters our ears: a happy and playful world in which dream sequences in the woods are alternated with violent changes that remind us of Concerto Grosso. [wiba]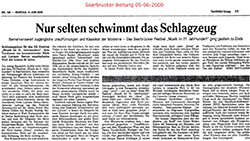 ---
Il giornale - 2000 - Italy
The Italian composer Jacopo Baboni Schilingi promises to investigate the limits of the persistency of the duration of every single note. With traditional instruments and new technology, ancient looks and new horizons: it could not be more chaotic and, at the same time, fertile program. [Sandro Cappelletto]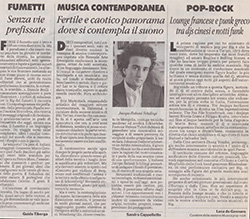 ---
La Repubblica - 1999 - Italy
The music like a game
Everything starts with the Pedagogical Department of M sic at Tempo Reale, in Florence, created to cover several domains of informatics application ion music. Not only for how to teach computer music to children but also masterclasses for teaching composers how to use the computer in music. The director of music department that, starting from 2000, will have a location in the Auditorium of Rome [conceived by Renzo Piano] is the young composer Jacopo Baboni Schilingi, who lives in Paris, worked for years at Ircam [the music institution created by Pierre Boulez] and know coopted by Luciano Berio to bring him « back » to Italy. [Leonetta Bentivolgio]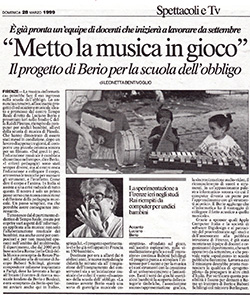 ---
L'Unità 1998 - Italie
Berlin, it's time for young Italian composers.
Brave and courageous idea of leaving the only world premiere composition to the youngest, Jacopo Baboni Schilingi (born in 1971). The progressive path towards silence in "Il Colore del Nero" is very clear and strict, and it truly gets us interested. [Paolo Petazzi]
---
Diapason - 1997 - France
Among several complete unknown composers, one name arises as a reference: Jacopo Baboni Schilingi. [Pierre Gervasoni]


---
Le Monde - 1996 - France
An (inter)active audience is hurrying to IRCAM's "open doors". Jacopo Baboni Schilingi, a 25-year-old composer from Milan, goes as far as possible with his performing music based on interactive models. [Piere Gervasoni]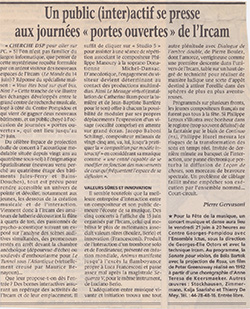 ---
Corriere della Sera - 1996 - Italy
A photo exhibition in Paris dedicated to the most well-known composers.
In approaching Jacopo Baboni Schilingi from Milan, Marco Delogu wanted to exalt the ancient shaping, his face strongly Italian that reminds Pontormo's paintings. [V. Ca].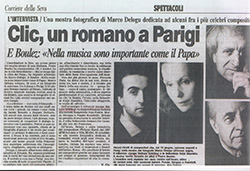 ---
Il Giornale - 1996 - Italy
[Fame] Jacopo Baboni Schilingi, the new Mozart, who wants to make a revolution in music.
Since one year Jacopo lives in Paris in such a small apartment that had to choose between a piano or bis bed. He travelled [with his music] all Italy and a little abroad: Bruxelles, Lisbon and Mexico City. He has a perfect study CV. His native name is Jacopo Baboni but he added Schilingi as a tribute to his grand father from whom he inherited his passion for music. [Giusi Petringa]
---
Musica e scuola - 1994 - Italy
An interview with Jacopo Baboni Schilingi. [Alessandro Savasta]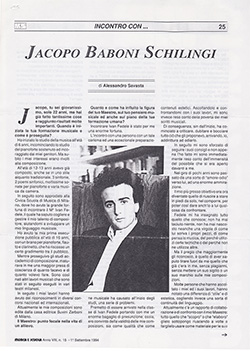 ---
Il Giornale - 1987 - Italy
We could listen to a new work by a very young classical composer, Jacopo Baboni Schilingi, who is barely 16 years old.